Erscheinungen der Muttergottes in einem Käsesandwich oder von Jesus auf einer verschimmelten Pizza erregen kein grosses Staunen mehr, höchstens Verwunderung über die Fantasie der Mitmenschen wenn es um himmlische Angelegenheiten geht. Ich jedenfalls habe jede Mühe, hier mehr als einen verkrusteten Teller zu sehen, aber...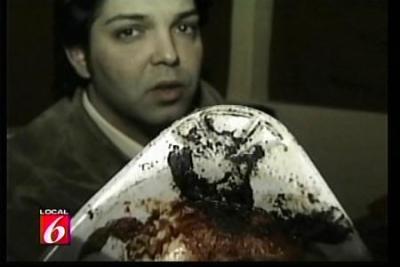 "A man in California claims the image of Jesus appeared to him while he was eating a plate of manicotti at an Italian restaurant, according to a Local 6 News report. Leo Williams said the image appeared before his eyes in the form of a bubbling, burned portion of cheese on his pasta dinner. Williams showed several people at the business who said they also saw the Jesus image and began to take photos of the discovery."
Solche Phänomene werden vom
Museum for Food Anomalies
gesammelt und gezeigt. Wem also das Numinose in seiner Pizza widerfährt, kann sich in diesem Museum mit einer Abbildung davon melden.
Wer allerdings nicht das Glück hat, solche übernatürlichen Erscheinungen erfahren zu dürfen, für den hier ein Tip zur Selbsthilfe:
Your own personal Jesus on Toast.
waltraut
- Samstag, 29. Juli 2006, 10:06