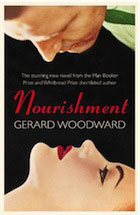 Die Geschichte von Tory Pace und ihrem Ehemann Donald spielt in England während und nach dem 2. Weltkrieg. Donald ist in deutscher Kriegsgefangenschaft, Tory arbeitet in einer Gelatinefabrik und lebt mit Mrs. Head, so will ihre Mutter genannt werden, in sehr einfachen Verhältnissen in London. Ihre drei Kinder leben wegen der Bedrohung durch Bombenangriffe bei einer Pflegefamilie auf dem Land.
Aus der Gefangenschaft verlangt Donald von seiner Frau, dass sie ihm "dirty letters" schreibt. "I mean really filthy, full of all the dirtiest words and deeds you can think of". Die sittsame Tory quält sich zwischen Empörung und ehefraulicher Pflichterfüllung.
Was sich zwischen Kannibalismus, Schwarzbrennerei und Briefeschreiben entfaltet, fand ich zuweilen eher bizarr und weit hergeholt aber doch auch spannend, komisch und immer wieder überraschend bis zum Ende.
Nourishment, Gerard Woodward 2010